Summer is finally here, and getting out and about in the fresh air with babies and toddlers can suddenly become more appealing when the sun shines.
Baby carriers and slings have improved vastly over recent years, and whether you choose babywearing as a lifestyle choice, or you just fancy buying a carrier to help you get out and about without the buggy holding you back, we have done some serious research to help you find the perfect carrier or sling for you…
Check out our five favourites and get your stomp on!
ERGObaby Adapt Carrier
This hugely adaptable baby carrier (see what we did there?) can be used from newborn to toddler in a variety of positions. It's ergonomically designed to be super comfortable and provide you with lumbar support. It has cross-over straps which make it easily adjustable, and the breathable fabrics help to keep baby safe. This little gem always seems to score highly in consumer tests.
Additionally, ErgoBaby offers a staggering ten-year guarantee on its new carriers!
We love this pearl grey one, £119.90 from ErgoBaby.
2. Baby Bjorn One Carrier
A stalwart of the baby carrier scene, this robust classic always seems to go down well with the dads, too.
Built to last and very sturdy, this padded and ergonomically-designed carrier can be used from newborn with a special insert that comes with the carrier, and can be used in four positions until your child is three years old.
It has also been certified as being "hip healthy" by the International Hip Dysplasia Institute, meaning that it provides the correct support for your baby's hips and encourages good hip joint development.- which is very important during the first few months of your baby's life.
The classic black version is usually cheapest on Amazon, so get hunting! Currently £111.99.
3. Infantino Go Forward
This beautifully made carrier is a slightly more economical choice and offers many of the same features as the more expensive brands.
Intuitively designed to be comfortable and easily adjustable, this carrier can also be used from baby to toddler and usually attracts great reviews from parents.
Widely available online, you can currently find it in Argos for just £59.99.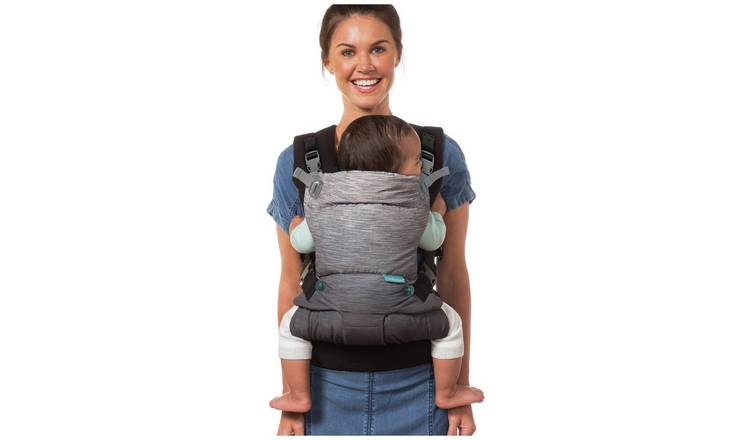 4. Connecta Baby Carrier
Connecta carriers have a huge following amongst sling-wearing mums, and almost fuse the line between a stretchy comfy wrap and a robust carrier.
What's more, they are available in a wide range of beautiful prints and fabrics including Harris tweed, denim and Liberty print.
They feature padded straps and quick-release buckles but don't have a huge waistband that many carriers have. There is also a Connecta carrier made for smaller frames with petite straps.
You can normally pick them up for around £75 – £80 from various suppliers online, check out the Koala Slings website for a large range of options.
5. Moby Wrap Classic 
If you'd prefer to become an expert at the stretchy wrap thang, Moby is a great brand to start with… The brand's classic stretchy wraps are made from 100% cotton and come in a variety of colour choices and patterns.
You might need a little practice at getting the hang of the wrap, as you'll need to wrap and tie it yourself, but luckily there are loads of helpful YouTube tutorials to help (what exactly did we do before the internet, huh?).
Wraps are super versatile, comfy and keep baby close by so they're brilliant for newborns, smaller babies and babywearing too.
Check out the classic version in Slate Grey on Amazon, currently just £45.69.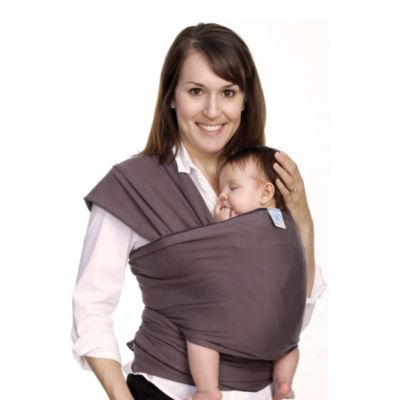 A great way to figure out the best sling or carrier for you is to try a few out by visiting a Sling Library! Check out your local mummy groups or NCT to find a local meet, and brilliantly, IKEA hosts several of these libraries so you have a great excuse to gorge on Swedish meatballs and stock up on tealights, too!
What's your experience of babywearing or slings? Tell us about your favourites…